Navachandi Homam, also called Maha Nava Chandi Yagna or Chandipatha is generally performed during the auspicious time of Navarathri, or Durga Pooja or Dusshera. For several centuries, it has been a practice to perform this sacred ritual, which is dedicated to the Goddess Shakthi, known as Chandi – the most ferocious of all the Avatars borne by Goddess Parvathi.
Performing this Homa will capacitate unbelievable changes in a person, negate and remove all negative planetary influences, eliminate all negative energies, and usher in a bountiful and successful new future.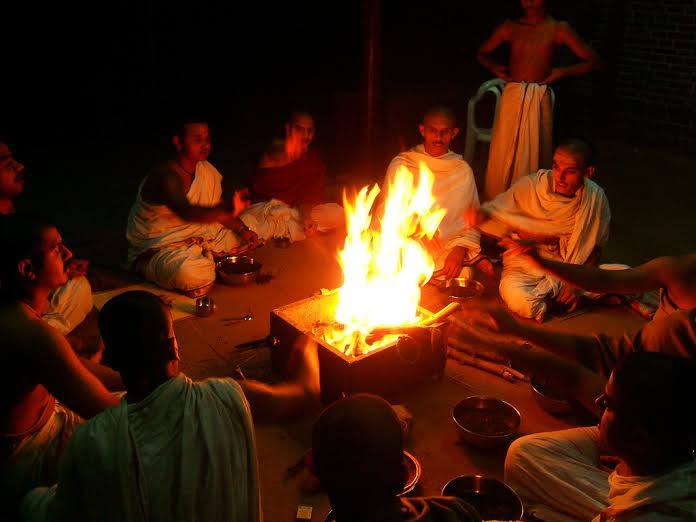 The Goddess Shakthi is the avatar of the combined forces, powers and rupas of all three divine goddesses – Goddess Lakshmi, Goddess Saraswathi & Goddess Durga. This combined force is declared the strongest in the universe and also termed Jagat Janani, or the Cosmic Mother. She is considered to have the power to make or break the universe, and her appeasement thru Navachandi Homa, will neutralize all the negative elements of the performer, and ensure a smooth sailing and obstacle-free future. The ritual can remove all curses, negate any black magic and such influences, ensure peace of mind, bring in a comfortable life, and assure success in all ventures undertaken.
Types of Chandi Homam:
Nava Chandi Homam: Saptashati parayan chanted 9 times
Shata Chandi Homam: Saptashati parayan chanted 101 times
Sahasrara Chandi Homam: Saptashati parayan chanted 1001 times
Ayuda Chandi Homam : Saptashati parayan chanted 10001 times
Prayuta Chandi Homam: Saptashati parayan chanted 100001 times
The puja duration would vary from one day to a couple of weeks. Hence the type of Chandi Homam is very important to decide the total Chandi Homam cost.
Benefits of Chandi Homam:
The Source of the Energy creation process strengthened
Success in profession
Removal of Hurdles in the life path
Good Health
Chandi Homam will enable timely marriage in the family
Right education and excellence
To Know more about Navachandi Homam contact:
Gokarna Rudragaya Temple
Near Bus Stop, Prasad Nilaya
Road, Gokarna, Karnataka 581326
https://goo.gl/maps/NHNtUSBJVPeHQkyf6
Email: gokarnarudragaya@gmail.com
Phone: +91-9448952126, +91-9738758223