Tripindi Shraddha is also known as Kamya Shraddha. The soul of a deceased person, whose Shraddha was not been performed continuously for a period of 3 years, gets converted into the category of Pret (or a ghost). Amavas is the day of Pitrus On this day, Shraddha should be performed. However, during Navratri or on the day of death in the Krishna fortnight of the month of Bhadrapada, Tripindi should not be performed.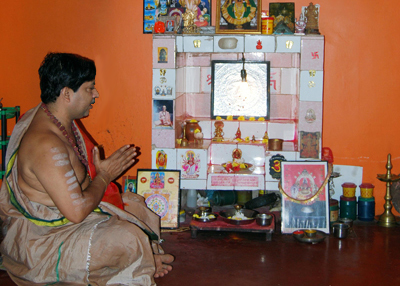 ಕುಟುಂಬದಲ್ಲಿ ಪಿತೃ ದೋಷ ಕಂಡು ಬಂದಾಗ ಕಾರಣ ಪಿತೃಗಳಿಗೆ ವಾರ್ಷಿಕವಾಗಿ ಶ್ರಾದ್ಧ ಮಾಡದಿದ್ದಾಗ ಹಾಗು ಸತ್ತಾಗ ಔಧ್ಯದೇಹಿಕ ಕರ್ಮಗಳು ಮಾಡದೇ ಇದ್ದಾಗ ಅಥವಾ ಕರ್ಮಗಳು ನಡೆದು ಸರಿಯಾಗಿ ಆಗದೇ ಇದ್ದಾಗ ಕರ್ಮಾ ಲೋಪ ಆದಾಗ ಅಥವಾ ಜನ್ಮ ಜನ್ಮಾಂತರಿಯ ಪಾಪ ಕರ್ಮದಿಂದ ಮುಕ್ತಿ ಆಗದೇ ಇದ್ದಾಗ ಹಿಂದೆ ಕುಟುಂಬದಲ್ಲಿ ಅನಾಚಾರ ನಡೆದಿದ್ದಾಗ ಕುಟುಂಬಕ್ಕೆ ಅಂದರೆ ಅವರ ವಂಶಕ್ಕೆ ಮಾತ್ರ ಶ್ರಾದ್ಧ ಹಾಗು ಪಿತೃ ಶಾಪ, ಸ್ತ್ರಿ ಶಾಪ, ಪ್ರೇತ ಶಾಪ ಹಾಗು ಜನನ ಕಾಲದಲ್ಲಿ ಜಾತಕದಲ್ಲಿ ಪಿತೃರಿಷೆ ದೋಷ ಹಾಗು ವಂಶಾರಿಷೆ ದೋಷ ಕಂಡು ಬರುವದು ಹಾಗು ಪಿತೃಗಳು ಮುಕ್ತಿ ಆಗದೇ ಪ್ರೇತ ಸ್ವರೂಪದಲ್ಲಿ ನೀರು, ಗಾಳಿ ಹಾಗು ಭೂಮಿ ಈ ರೀತಿಯಾಗಿ ಪ್ರೇತಯೋನಿಯಿಂದ ಬಳಲುತ್ತಾ ಇರಬಹುದು. ತ್ರಿಪಿಂಡಿ ಅಂದರೆ ೩ ಪಿಂಡ ಅಂದರೆ ಈ ಎಲ್ಲಾ ಆತ್ಮಗಳ ಪ್ರೇತಯೋನಿಂದ ನಿವೃತ್ತಿಗೊಳಿಸುವ ಕರ್ಮವೇ ತ್ರಿಪಿಂಡಿ ಶ್ರಾದ್ಧ. ತ್ರಿಪಿಂಡಿ ಶ್ರಾದ್ಧದಿಂದ ಆತ್ಮಕ್ಕೆ ಮುಕ್ತಿಕೊಡಲು ಸಾಧ್ಯವಿಲ್ಲ. ಯೋನಿಯಿಂದ ಬಿಡುಗಡೆ ಗೊಳಿಸಬಹುದು.
Rudragaya temple offers the simplest Vedic Pandits and Purohits to perform Tripindi Shraddha. Rudragaya temple provides multi-lingual Pandit and Purohits, who speak English, Tamil, Hindi, Telugu, Kannada and other languages. we will also arrange for Pujas to be performed at Temples, Holy Kshetras or at your Home or Location of your choice. Our service includes all Puja samagri and Pandit charges, our Pandits don't charge anything additional beyond what has been agreed upfront. Tripindi Shraddha Puja is performed for problems like hurdles in child birth, evil eye, ancestor Moksha (i.e Nirvana), removing Gau hatya dosha.
Contact us at +91-9448952126, +91-8217549312
When is Tripindi Shraddha Puja performed?
Tripindi Shradha is a Pooja Vidhi during which offerings are made within the memory of the Ancestors. Sometimes we cannot perform the Shraddha. If this Shradh karma isn't performed continuously for 3 years then the ancestors get angry, to satisfy ancestors a vidhi is to be performed that's referred to as Tripindi Shraddha. On any day of Panchami, Ashtami, Ekadashi, Teras, Choudas or Amavas in any fortnight (Shukla or Krishna) of the month of Shravan, Kartik, Pousha, Magh, Phalgun, Vaishakh, doing Tripindi Shraddha is permitted by traditional science. Normally Sun remains in Virgo or Libra from 16th September to 15th November. During this era Pitars are allowed to freely come to the world. Hence doing Tripindi during this era is more beneficial.
Who should perform Tripindi Shraddha Puja?
A couple of husband and wife are jointly entitled to do the Tripindi.
A widower is also entitled to do this.
An unmarried person can also do this formality.
A Hindu woman goes to a different family after her marriage. Hence she is not entitled to do the Tripindi or Shraddha for her parents, but she can do the Tripindi or Shraddha for those deceased who were related to the family of her husband.
A brand new unwashed white dress should be worn at the time of performing this formality.
Benefits of performing Tripindi Shraddha Puja:
Objectives of performing Tripindi shraddha aren't only for providing momentum for the onward journey of souls that haven't found proper liberation and tormenting surviving relations. In other words, this is often performed to help the souls entrapped within the nether world and attain Moksha.
Generally, the regular Shraddh is performed, limiting to the three generations of the ancestors: Pitru (Father), Pitamah (Grand-father), and (Great grand-father). However, Tripindi shraddha, in contrast, appeases the Pitrus from generations preceding even these.
It is mentioned in Grihya Sootras, Performing this rite once every twelve years can help clear the Pitru Rin in a simpler manner. If the Janma Patrika (horoscope) shows Pitrudosh (Defects arising from pitrus on father's side), then to eliminate it the individual should perform this rite even when the oldsters are alive.
Contact us at +91-9448952126, +91-8217549312
Why Tripindhi Shraddha puja should be performed at Gokarna?
Gokarna (Kannada: ಗೋಕರ್ಣ) is a small temple town on the western coast of India within the Kumta taluk of Uttara Kannada district of the state of Karnataka. The most temple deity is Lord Shiva, who is additionally referred to as Mahabaleshwar. Gokarna is understood together of the seven important Hindu pilgrimage centers in India.
This sanctum is understood as Bhookailasa and therefore the Southern Varanasi. (Ref. Skandha Purana, Guru Charitra). Gokarna means Cow's Ear. it's believed that Lord Shiva emerged from the ear of a cow (Prithvi, the Mother Earth) here. it's at the ear-shaped confluence of two rivers Gangavali and Aghanashini. Thus Gokarna gained global spiritual significance. Performing Maha Mrityunjaya Homam at Gokarna has its own very significance.
Gokarna is mentioned within the Shrimad Bhagavata Purana as being the house of the brothers Gokarna and Dhundhakari. Mahabaleshwara Temple (Maha: great, bal: strength) may be a famous Shiva Temple and it houses the 'Atmalinga'
The Brahmin king Raja Mayooravarma was instrumental in bringing the primary 30 approximately families to Gokarna. Brahmins have a history of 1300 years back and documental proofs are available since the 15th century about Gokarna priests and students for performing various pujas like Navagraha-purak-aghorastra-puja, Narayan bali, Kaal Sarp dosh puja, Maha Mrantuynjya Homam, pind pradhan, tripindi Shraddha, etc.
The availability of an honest number of learned scholars in Sanskrit and Vedic experts in Gokarna is another advantage aside from the individuality of this sanctum in India.
The Atma linga of Lord Shiva is at Gokarna. Hence all pujas are performed throughout the year.
Frequently Asked Questions on Tripindi Shraddha
Why am I suggested Tripindi Shraddha?
The astrological study of Janma Patrika can reveal the presence of Pitru Dosha. This could be throwing up lots of negative effects like delays in completion of education, dissatisfaction in work life, personal life, disinterest, and dejection. It may even harm the progress in matrimonial. Another reason for suggesting this could, the discontinuation of performing Varshik Shraddh (The annual ceremony).
Is Tripindi Shraddha recommended for Pitru Dosha?
Tripindi Shraddha is one of the many rituals suggested for reducing the problems due to Pitru Dosha.
Who should perform Tripindi Shraddha?
The surviving son or son can perform Tripindi Shraddha. An unmarried person can also do this formality. A couple (husband and wife) are jointly allowed to do perform Tripindi. A widower is also entitled to do this. However, a single woman is not entitled to perform this.
How important is it to perform Tripindi Shraddha?
Tripindi Shraddha is known as kaamya Shraddha. Tripindi Shraddh Puja is performed to bring peace to the souls of ancestors of three generations. This will free the soul of the ancestor who might have died at a very young age or in case if the shraddha rituals were not followed for 3 years.

It is essential to perform under the guidance of an expert, with full faith and purely in accordance with the procedure laid down in Grihya Sutras.

Other reasons cited for doing Tripindi Shraddh can be like this:

An atmosphere of quarrel in the house
The matrimonial of son or daughter becomes difficult
Inexplicable business failures
The deceased appearing in dreams
When can I perform Tripindi Shraddha Puja?
Tripindi Shraddha Puja can be performed on the Hindu calendar months like Vaishakhmaas, Shravanamaas, Karteekmaas, Margashirmaas, Pushyamaas, Maghmaas, and Phalgunmaas. In other words, Dakshinayan is more suitable for these rituals. Thithi or the date may be among Panchami, Ashtami, Navami, Dashami, Ekadashi, Trayodashi, Chaturdashi or Amavasya.

Performing during the period of Sun's transit in Kanyarashi(Virgo) or Tularashi(Libra) is said to be beneficial. This period is usually in the months of September through December.
Can I bring my family to perform Tripindi Shraddha in Kshetra?
Yes. You can bring your family. Please contact us for the accommodation needs and arrangements.
What is the time duration to perform Tripindi Shraddha?
Tripindi Shraddha is a one-day performance procedure. If coupled with other rituals suggested by the astrologer, you may have to stay for two to three days.
How to Reach Gokarna?
By Flight: Nearest airport is Dabolim in Goa. This airport is around 140 kilometers away from Gokarna.
By Train: Gokarna rail link which is well connected with Margoa. If you are coming to Gokarna via rail then the nearest railway stations are located at Gokarna/ Ankola /Kumta which are about 6/20/18 kilometers away.
By Bus or Car: KSRTC, VRL, SRS, Kumars and many have frequent bus services in the region. There are plenty of buses which connect Gokarna to major and minor cities in the country which will make to reach Gokarna easy for the travelers.
Note: To Know Tripindi Shraddha Puja Cost, kindly call us on +91-9448952126.